[ CONTINUED FROM (1) ]

by the way,
Resego nnkeh nm, did i remember? to mention it to you
that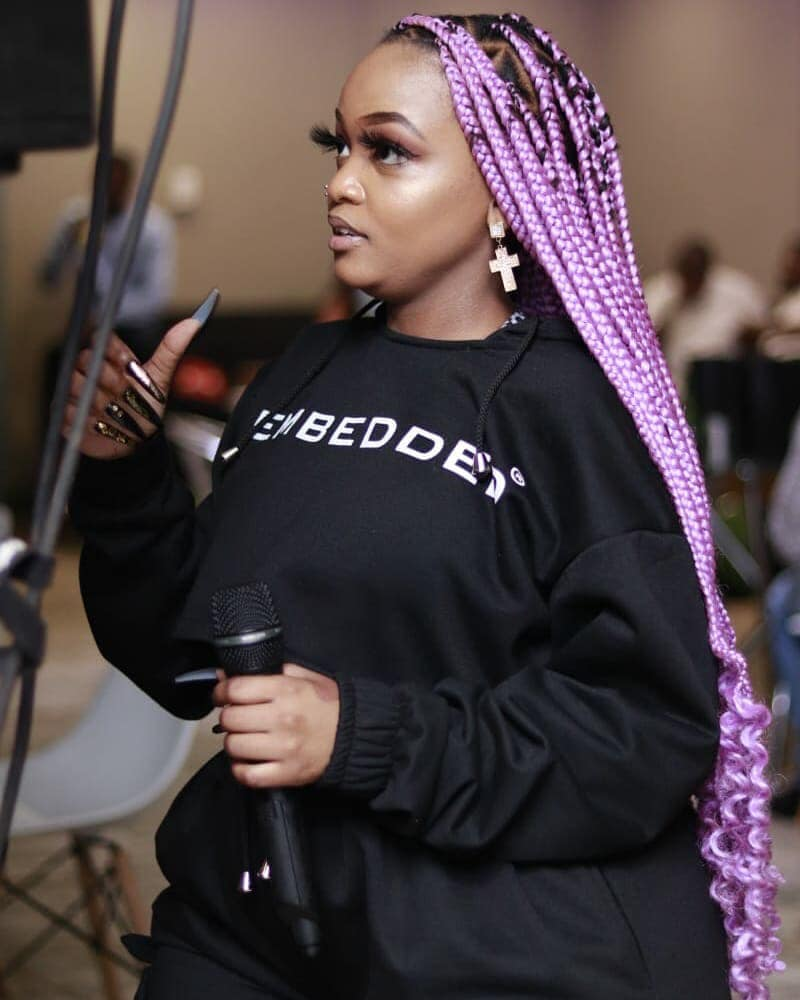 there was NO ELECTRICITY here in NIGERIA at the
location / area referred to as Oyadiran Estate, Sabo, Yaba,
at/in Lagos State, Yoruba-land, Nigeria

throughout the whole day of
TUE.29.06.(JUN).2021
from 12:01 AM extremely very very early morning hours
all through to 12:00 PM midnight.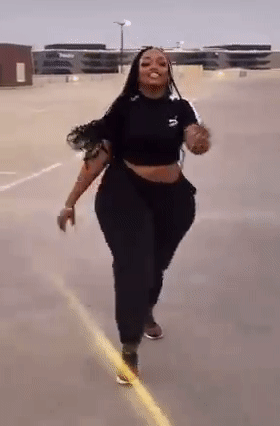 funny thing that there seems to be NO ELECTRICITY here
anytime or most times that
there are key tournaments going on
in the WTA world circuit.

infact, if my memory serves correctly,
on DAY 1 of WIMBLEDON 2021
i.e on MON.28.06.(JUN).2021

there was also NO ELECTRICITY here either

in NIGERIA at the
location / area referred to as Oyadiran Estate, Sabo, Yaba,
at/in Lagos State, Yoruba-land, Nigeria

throughout the whole day of
MON.28.06.(JUN).2021
from 12:01 AM extremely very very early morning hours
all through to 12:00 PM midnight.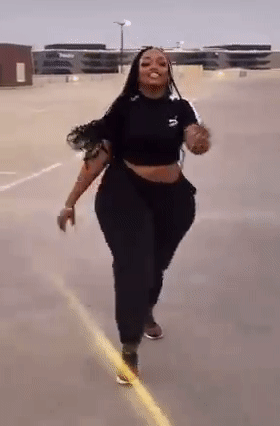 in any case, Segos Pumpkin nnkeh nm,
ELECTRICITY or NO ELECTRICITY from the electricity grid of
the ELECTRICITY DISTRIBUTION COMPANY ( ELECTRICITY DISCO )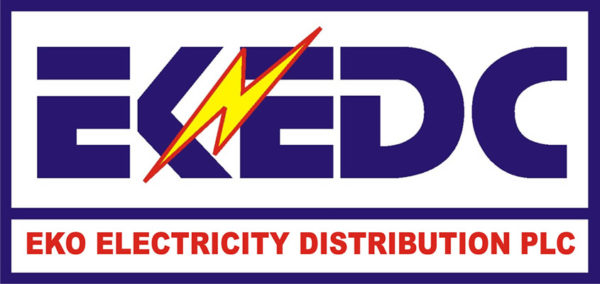 that holds the mandate for providing electricity for the
Sabo, Yaba, Lagos State, Yoruba-land area of Nigeria

i was able to see on the internet
at the WIMBLEDON 2021 WEBSITE
the RESULTS of the remainder of the ROUND 1 LADIES SINGLES MATCHES.

and quite a whole number of LADIES SINGLES MATCHES
were played on TUE.29.06.(JUN).2021

and going by the results at the RESULTS SECTION there,
it looks like all of 24 matches were played that day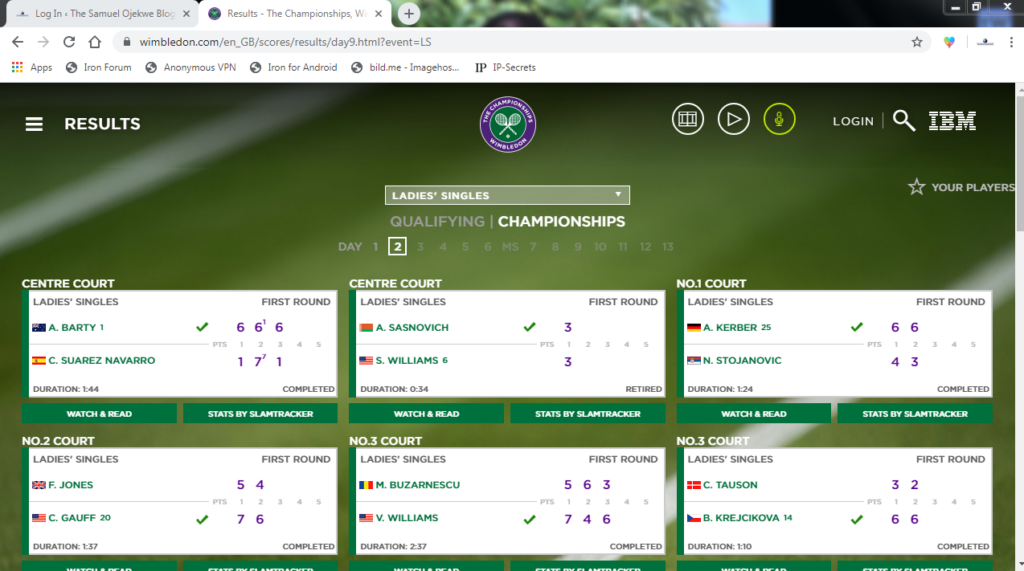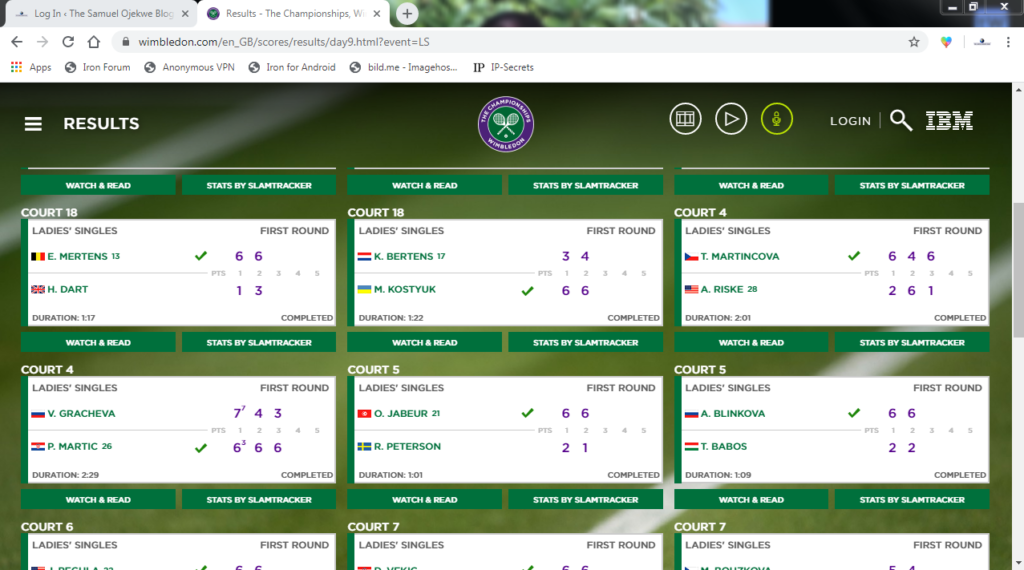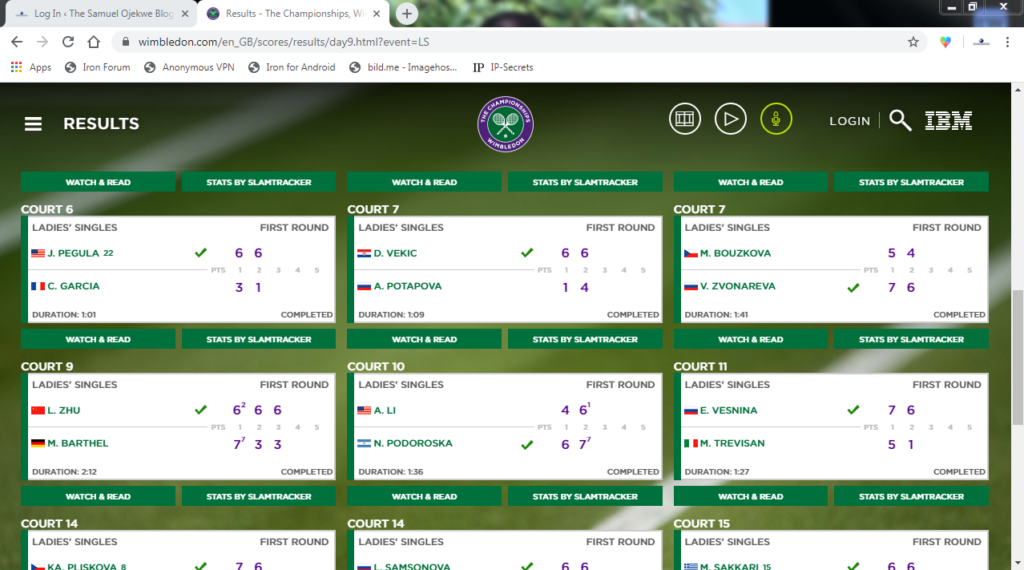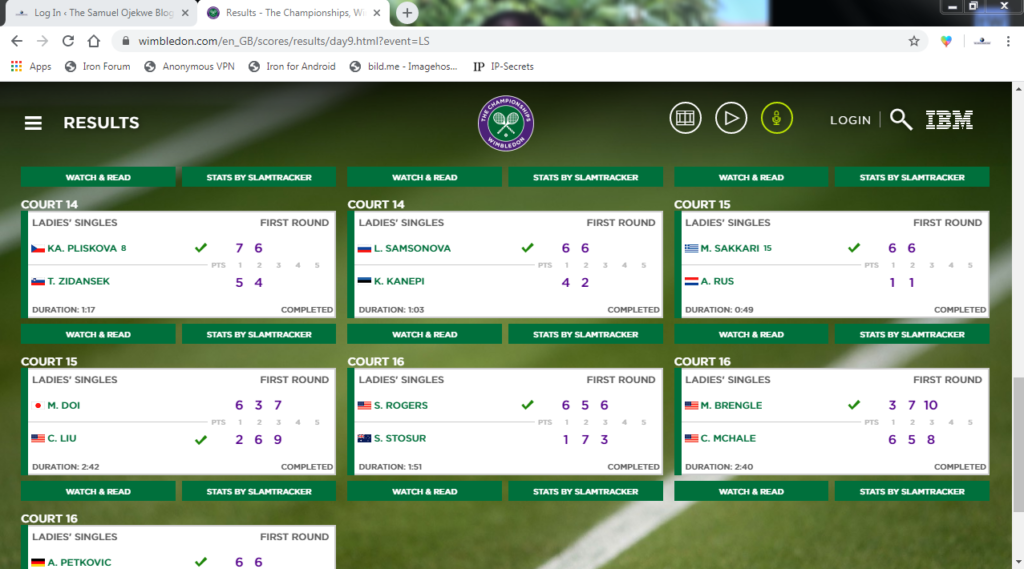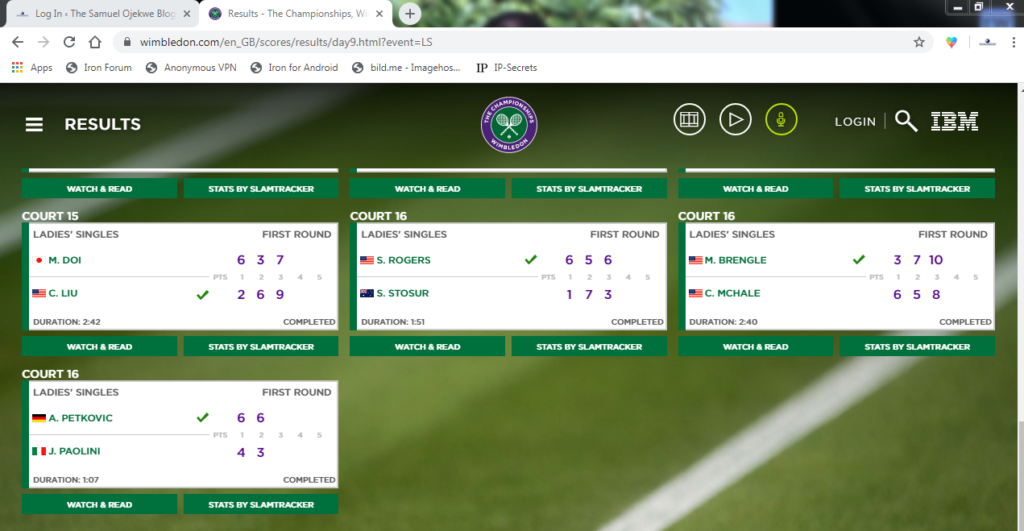 and so i guess it is
[1] A. BARTY SUPER
[2] A. SASNOVICH SUPER
[3] A. KERBER SUPER
[4] C. GAUFF SUPER
[5] V. WILLIAMS SUPER
[6] B. KREJCIKOVA SUPER
[7] E. MERTENS SUPER
[8] K. BERTENS SUPER
[9] T. MARTINCOVA SUPER
[10] V. GRAVCHEVA SUPER
[11] O. JABEUR SUPER
[12] A. BLINKOVA SUPER
[13] D. VEKIC SUPER
[14] M. BOUZKOVA SUPER
[15] L. ZHU SUPER
[16] A. LI SUPER
[17] E. VESNINA SUPER
[18] K. PLISKOVA SUPER
[19] L. SAMSONOVA SUPER
[20] M. SAKKARI SUPER
[21] M. DOI SUPER
[22] S. ROGERS SUPER
[23] M. BRENGLE SUPER
[24] A. PETKOVIC SUPER
for all the ladies who won their ROUND 1 ( R 1 / R-1 ) MATCHES on TUE.29.06.(JUN).2021.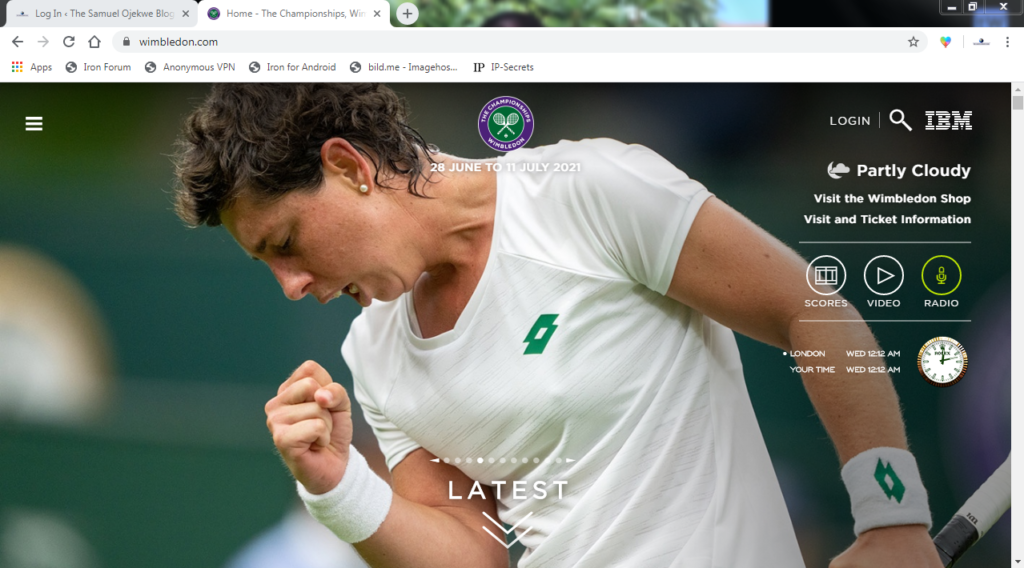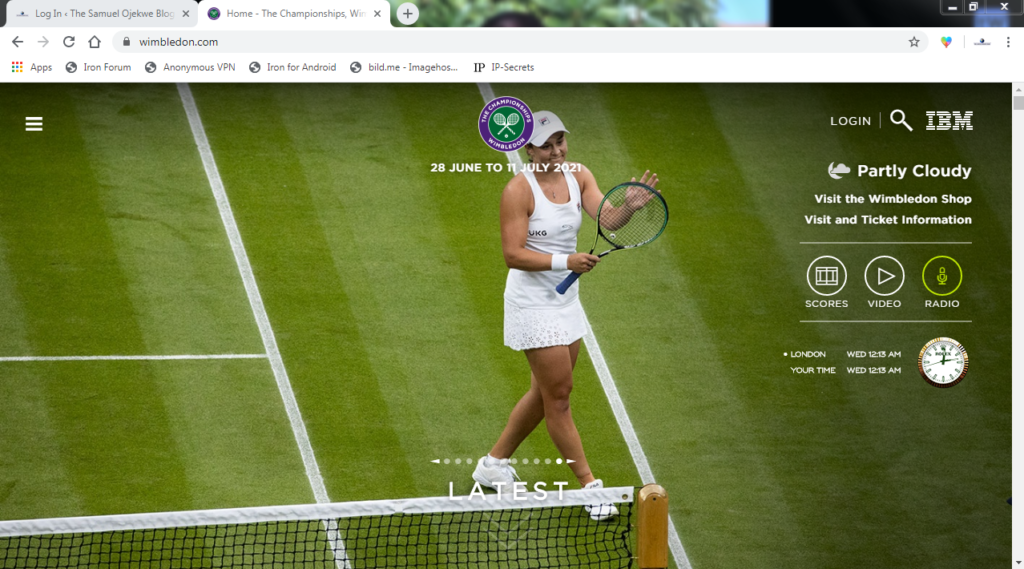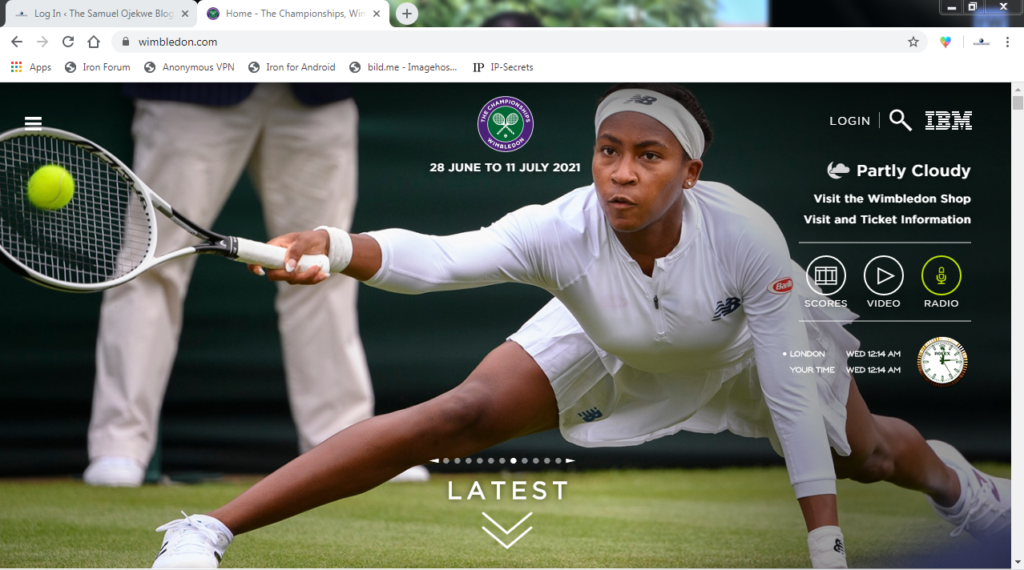 Resego nnmaah nm,
one shocking and completely unforeseen development that day
was the injury that SERENA WILLIAMS had during her ROUND 1 match.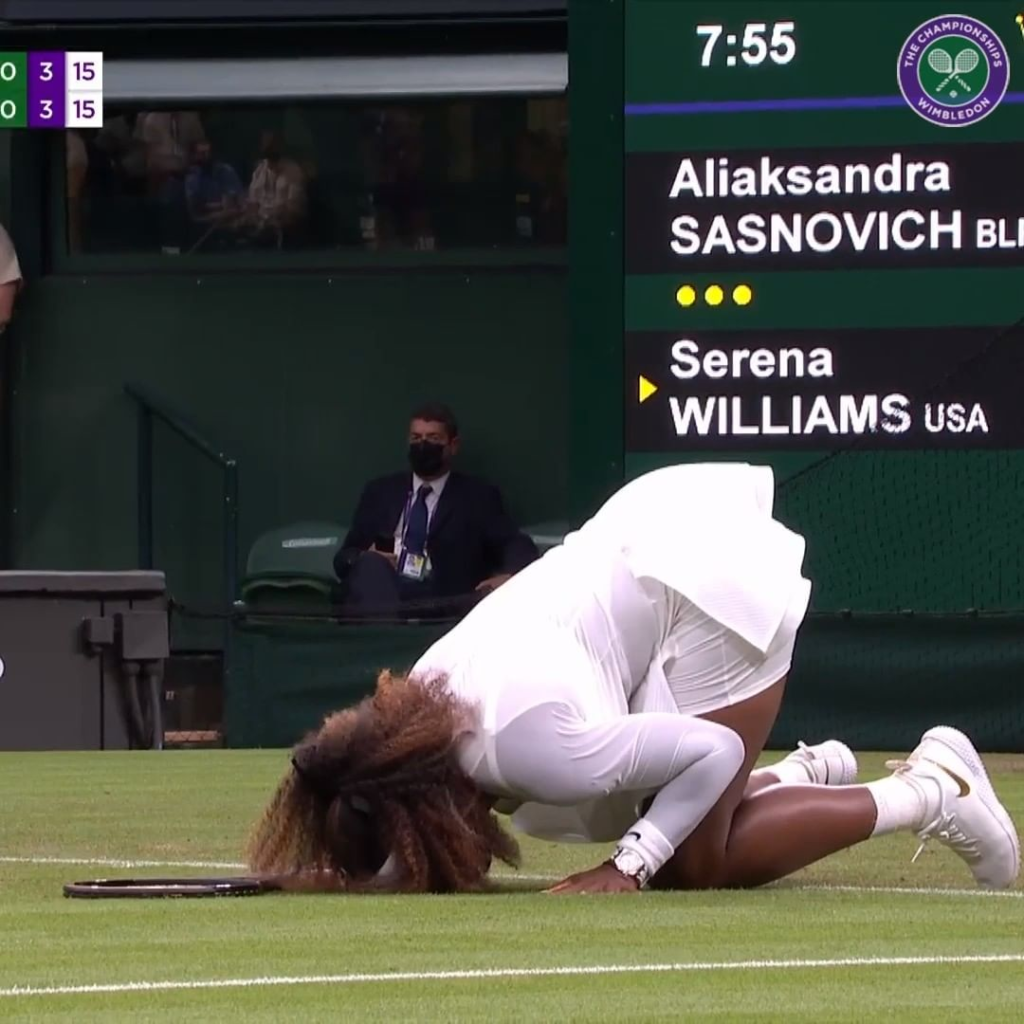 the injury was very serious as SERENA WILLIAMS ( according to media reports ), after attempting to continue with the game had to step off the courts after a few minutes of returning to game play after the injury.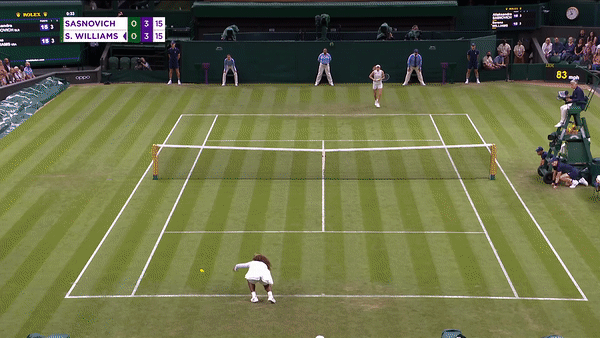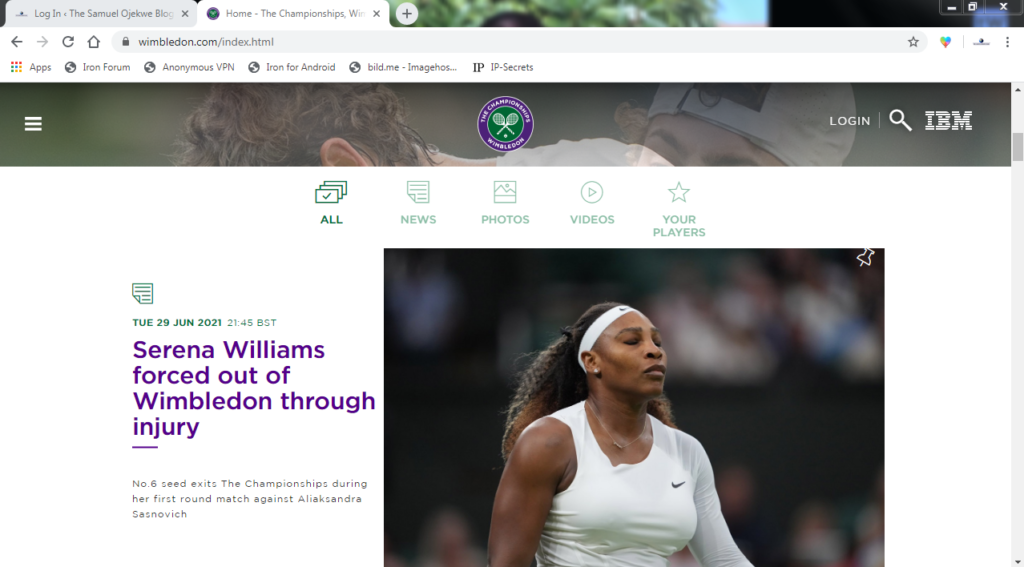 if you recall that SERENA WILLIAMS has between 2012 and 2021 incurred various injuries during game play e.g waist injury, ankle injury
and in my own personal opinion
… recklessly disdained her health and continued to play the match(es)
instead of
immediately heading to the nearest specialist orthopaedic hospital
to get an x-ray of her bone structures for the injured area
and
a professional assessment based on scientific data ( e.g the x-ray )
by a competent medical professional …
you can guess that that injury must have been really serious.
it may be a layman's opinion,
still,
when someone has an injury during a game
and
that person continues to play that game / match to completion
that additional stress to that point of injury
could worsen the injury.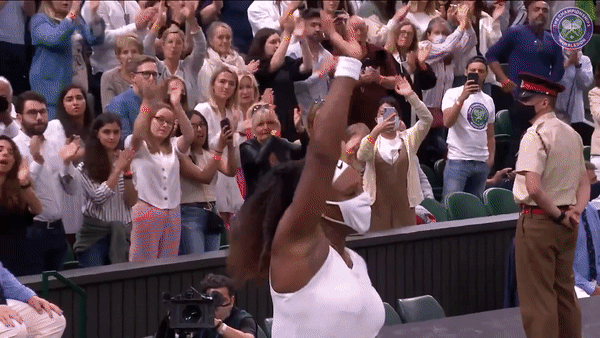 one time SERENA WILLIAMS had an injury at BRISBANE
and
instead of
leaving off playing Lawn-Tennis completely until the injury fully heals

she recklessly moved on to MELBOURNE with that injury
i.e to say
she held the health of her legs and body in such low esteem that
despite such severe injury
she moved on to play competitive lawn-tennis in MELBOURNE
where

despite my being extremely worried about the good health status of her legs i could not help but notice the fact that she won 3? matches
with that ailing ankle i.e that yet not fully healed ankle
and
proceeded onwards competitively well enough to play a 4th? match
in which she held
EKATERINA ? MAKAROVA ? … or was GARBINE ? MUGURUZA ?
to a  4-6?,4-6? three? (3?) hour match
in the ROUND of 16? or so.
a loss that
according to rumours
in the opinion of many folks around the world
she was FORCED TO CONCEDE
BECAUSE OF THE INJURY
( AND THE AGGRAVATION? TO THE INJURY ? ).
i remember that one because i was following the match via the internet from here in Nigeria
and
when after 2 hours
the RESULTS? SECTION? of the AUSTRALIAN OPEN WEBSITE
was still showing the match as LIVE / ON GOING
i had to telephone a friend DR. EBERE IBE, a medical doctor then in CHICAGO, USA and ask him to check if any of the USA television stations and radios were broadcasting the match and see if he could find out the status of things concerning the match.
you can imagine my shock when after 2 hours of game play,
DR. EBERE IBE told me the match was still going on at the time.
and this is a Lawn-Tennis player who has an ankle injury.

i remember that it was because of her bravery and soldiering-on attitude
at BRISBANE and
at MELBOURNE
despite the odds placed i.e stacked against her by that ailing injured ankle
that

i began to refer to
SERENA WILLIAMS as
THE WARRIOR OF BRISBANE
THE WARRIOR OF MELBOURNE
in my write-ups in social media at that period / time
( circa 2012 A.D / circa 2013 A.D i.e about 9 years ago or thereabouts )

in addition to referring to her as
SERENA WILLIAMS – THE PEOPLE'S CHAMPION
SERENA WILLIAMS – THE PEOPLE'S FAVOURITE CHAMPION

an appellation which was rather apt and rather appropriate at the time
in view of her historical CHAMPION STATUS
and
the seemingly connived? contrived? pre-meditated? gang-up? resistance
to
her valiant efforts to return to WTA NUMBER 1 against all odds.

SERENA WILLIAMS may be physically strong and physically healthy
and she may have a body type that recuperates well from injury,
all the same,
she needs to stop taking risks with the health of her body.
and in this wise
i.e to say
and in this regards
i guess that the thing now is
for SERENA WILLIAMS to be wise enough and
for SERENA WILLIAMS to sensible enough
to
let that ankle? injury heal completely before returning to Lawn-Tennis play.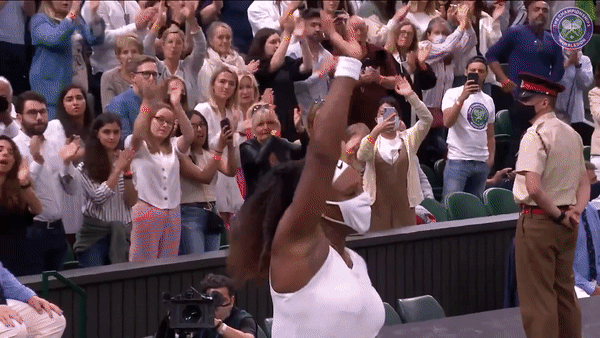 Segos ormaahleechar nm,
there's a whole lot of silly? talk about
SERENA WILLIAMS winning 54? titles or is it 60? titles or 70? titles or so.
it is extremely very silly? talk any which way you look at it.
i mean,
the babe is a Champion.
she has over 50 titles already as at now.

and the rest will come naturally when they will
just as the over 50 titles she has already
came in naturally when they did.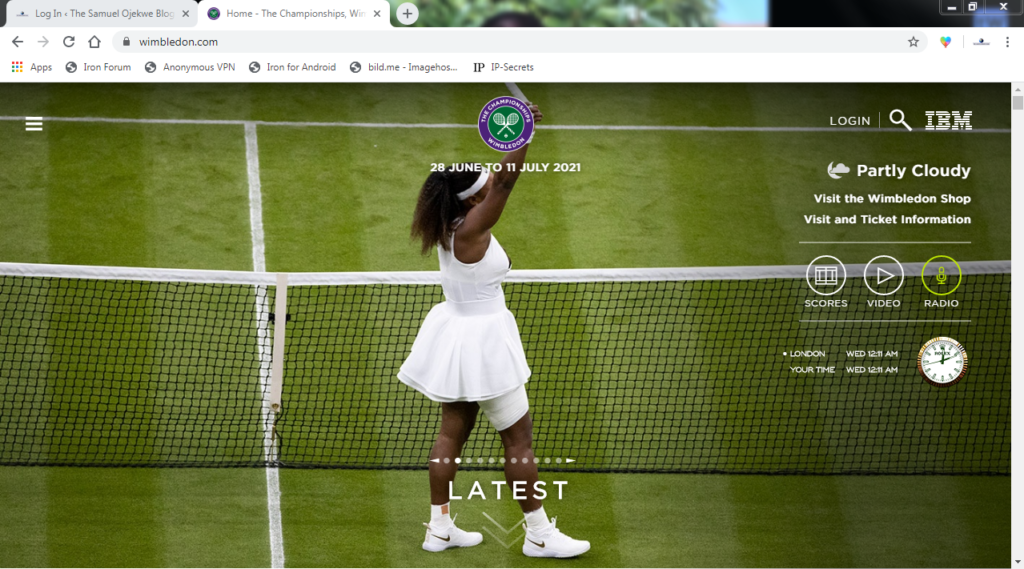 so why all the silly? talk and all the un-necessary hullabaloo ?
could it be a conspiracy ????????? somewhere
to attempt to use
the forum of media pressure
and
other forums? / fora? of pressure
to put
PSYCHOLOGICAL PRESSURE and PSYCHOLOGICAL STRESS
on SERENA WILLIAMS
and
thus
cause her to err one way or the other ?????????
or
at the very least make her uncomfortable ?????????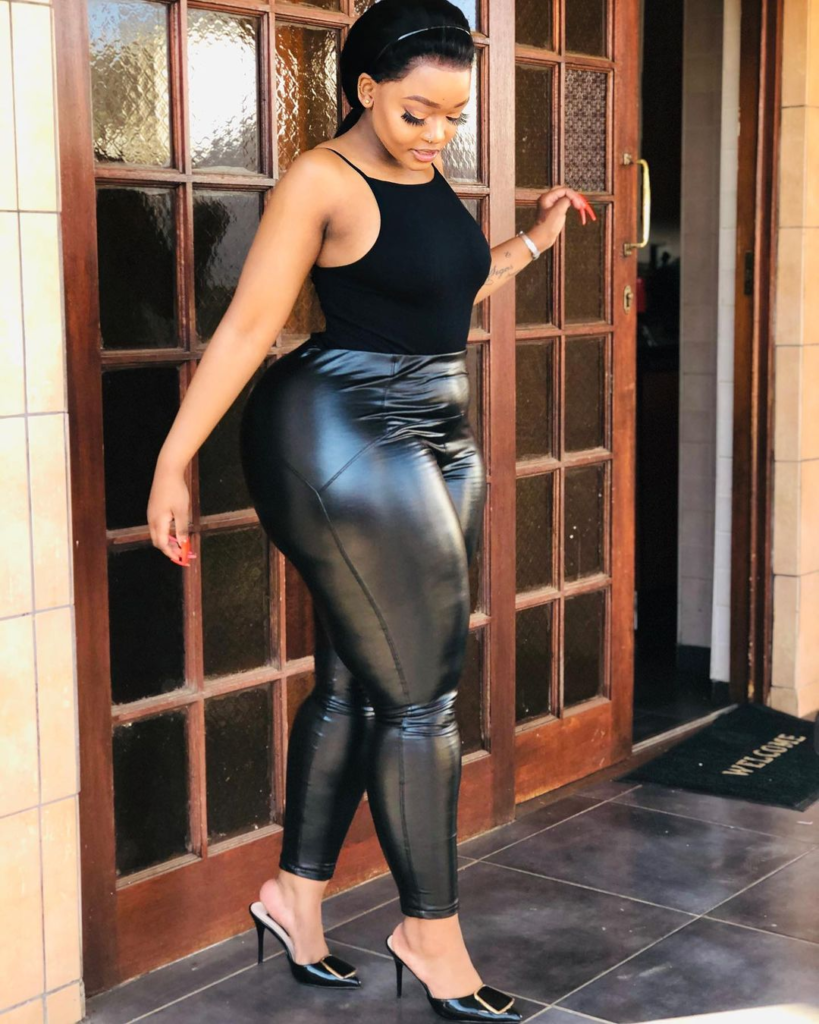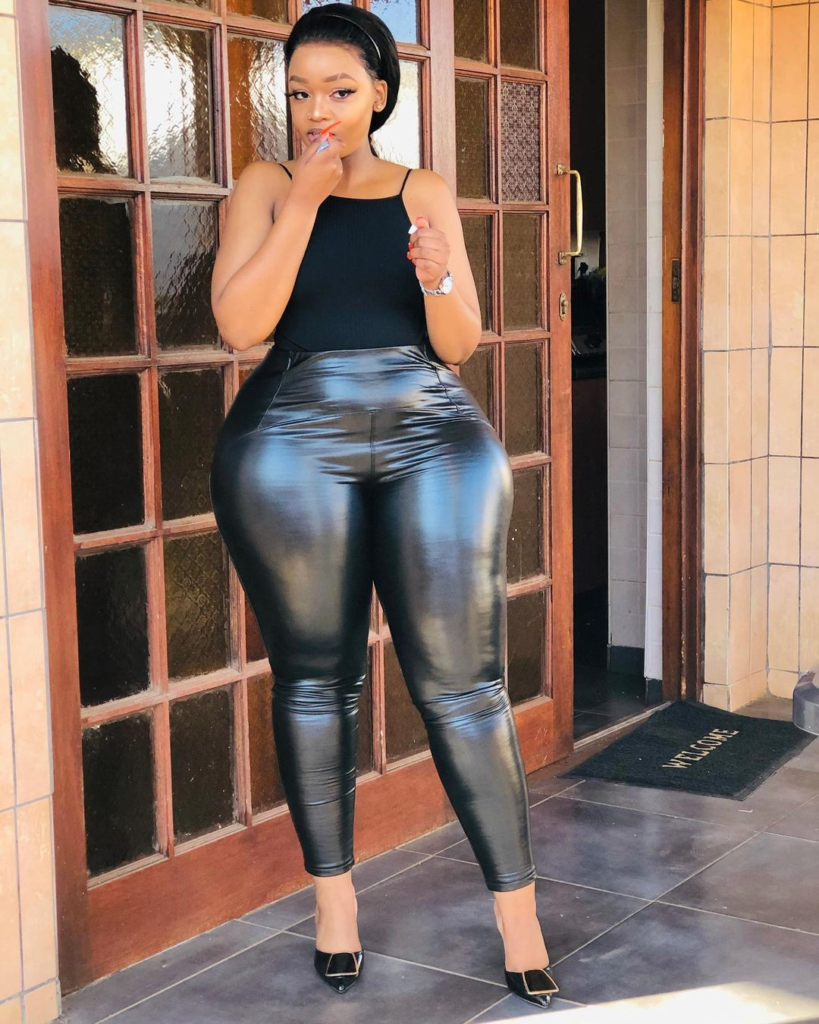 [ END OF (2) ]

[ CONTINUED IN (3) ]